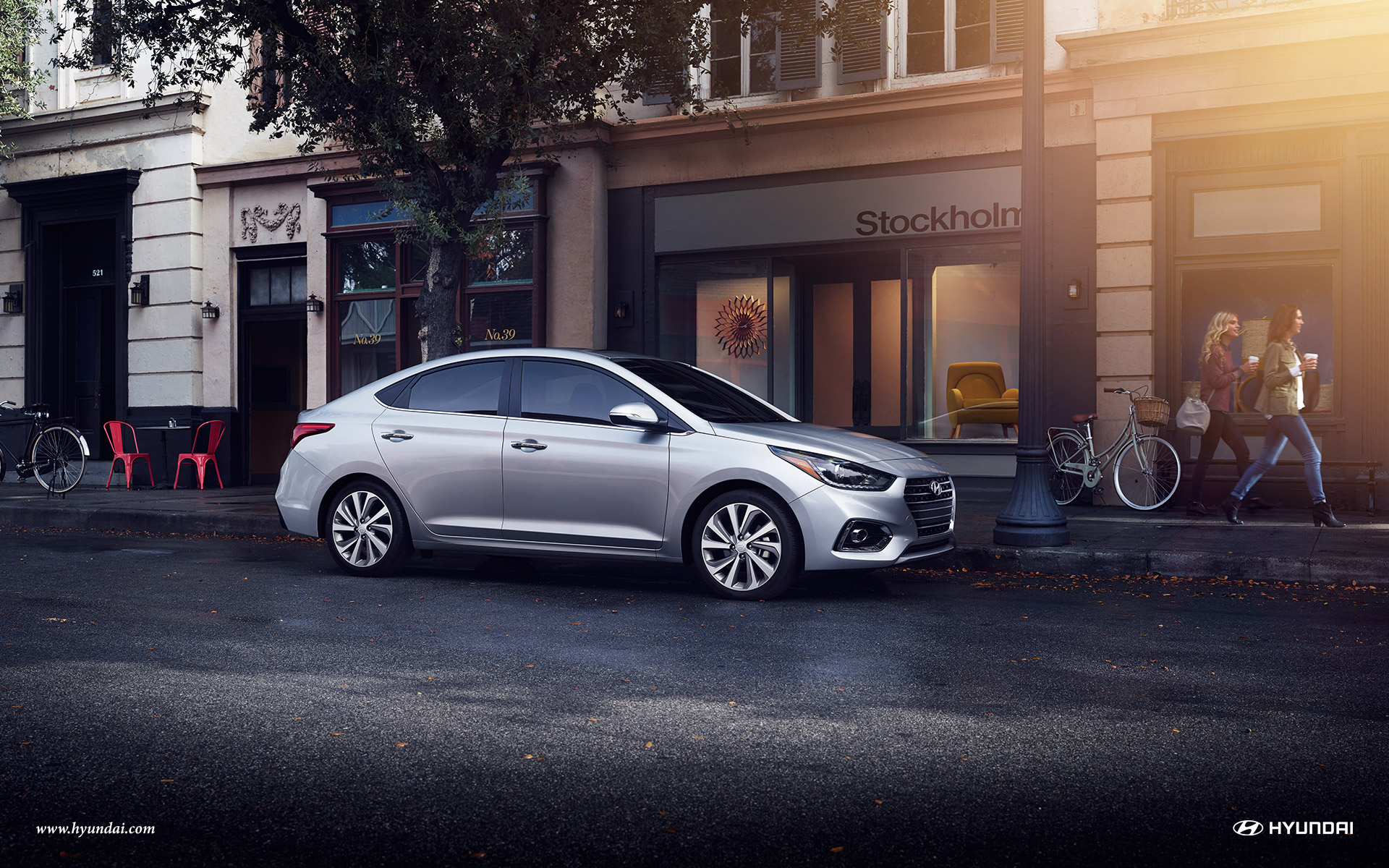 2018 Hyundai Accent near Longmont CO
The original Accent was introduced way back in 1995. That's more than two decades ago. It's hard to believe it's been that long. Perhaps what's most exciting about the 2018 Hyundai Accent available at your local dealership serving Longmont Loveland Boulder is how much value this vehicle gives. Available as both a sedan and a hatchback, this is a subcompact car aimed at individuals and families that need to get a great deal of bang for their buck. Will you ever. Many small car makers eschew niceties in favor of aggressive pricing, but here, the manufacturer manages to find a sweet balance between giving us a price we can afford, providing the features we need and delivering the advancements we want.
Interior
A great reason to consider a 2018 Hyundai Accent near Longmont CO is ergonomics. Good ergonomics isn't always a characteristic we associate with small subcompact cars, but here we are. It means that if you're driving to work every day or taking a trip with the family, you're going to feel good doing it. This 2018 Hyundai also delivers ample luggage space-much more than you'd expect in this class. The dashboard and console areas are well-designed and emphasize usability above all else. You'll find an LCD screen and whatnot but also traditional knobs and buttons rather than an array of touchscreen controls. The cabin is wide open, and you'll easily be able to fit for full-size adults with ease.
Exterior
As mentioned in the opener, a Hyundai Accent from your local Boulder Hyundai dealership is available as either a sedan or a hatchback. In either style, these are handsome vehicles that you'll be proud to endure the daily grind in. In other words, they look sharp and like they cost a lot more than they do. Both the sedan and hatchback offer four traditional doors: two drive doors and two passenger doors. The hatchback, of course, has the "fifth" door at the rear as well. You can seat up to five people total: two up front and three in the rear seating. The sedan is available in a base SE trim as well as a Value Edition, which adds 16-inch tires, Bluetooth and more. The hatchback, on the other hand, is available in the base SE or a Sport variation. Sports includes the Value proposition but also works in a body color-matching spoiler, beam headlights, LED accents and much more.
Mechanical
Every 2018 Hyundai Accent available at your Boulder Hyundai dealership is front-wheel drive. The front suspension employs MacPherson struts with gas shock absorbers and coil springs. The rear suspension comprises torsion axle with monotube shock absorbers and coil springs. The steering is motor-driven. It coupled with the vehicle's handling provides superb responsiveness, and you can experience this firsthand by test-driving one or more of these Accents at your dealer serving Longmont Loveland Boulder. Note that the Value and Trim version have rear disc brakes as well. All vehicles come standard with 14-inch wheels, and the upper trims upgrade to 16-inch alloy wheels.
Powertrain
A 2018 Hyundai Accent near Longmont CO is powered by an updated I-4. This is a 1.6L engine that delivers 132 horsepower and 119 pound-feet of torque. Base Accents have always giving you the choice between an automatic and manual transmission, and that choice remains for 2018. In fact, the manual transmission you come opt for this time around is a six-speed. For those who choose the automatic, it is a six-speed automatic transmission with SHIFTRONIC and an Active ECO system.
Safety
The manufacturer has earned a great reputation for safety with the Accents over the years, and now, they're taking it a step further. For the time first time ever, a 2018 Hyundai Accent near Longmont CO will incorporate an Autonomous Emergency Braking system. This means that the vehicle can warn you of an impending collision and even apply the brakes on your behalf. The vehicles at your dealer serving Longmont Loveland Boulder also feature six airbags standard. Advanced options include blind-spot monitoring, lane change assist, lane departure warnings, traffic alerts and so forth. Crash and other safety ratings are quite respectable for this class and let your purchase with confidence.
The all-new 2018 Hyundai Accent available at your local Boulder Hyundai dealership is a sight to behold. It packs driving performance and technological sophistication into an affordable automotive package. These 2018 Hyundai Accents are flying off area lots because of aggressive sticker prices, dealer incentives and manufacturer discounts. Another big plus is the financing options, which can let you put a small amount down, pay a low amount each month, and dictate a term that meets your needs. You may be surprised at just how favorable a time it is to consider an Accent, and you owe it to yourself to test-drive one. You never know. Today may be the day you drive away in that new car you deserve.