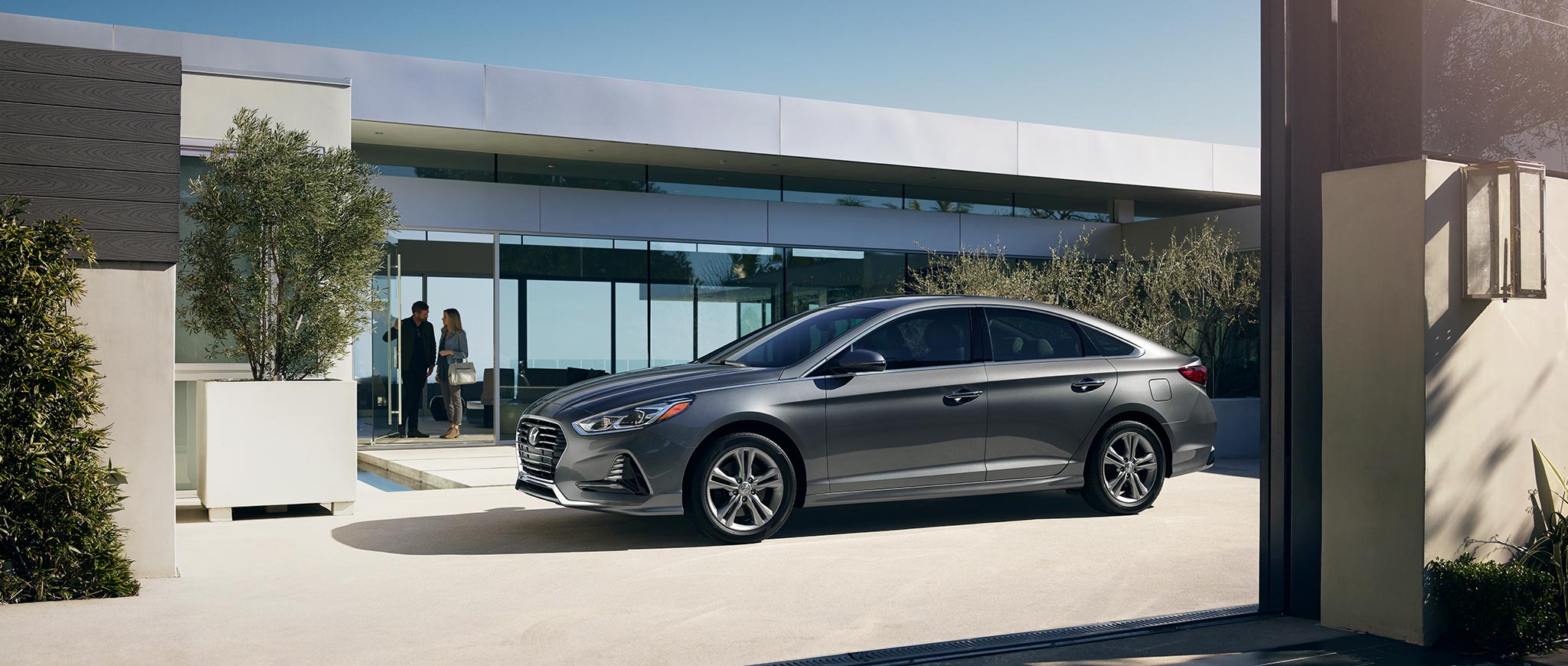 Overview
Are you thinking about purchasing a 2018 Hyundai Sonata from a Longmont area Hyundai dealer serving Longmont CO? If so, you should continue reading this 2018 Sonata review to learn more about Hyundai's popular mid-size sedan. For this model year, the Hyundai Sonata has received a significant amount of updates to the vehicle's interior and exterior. There have also been some much-needed changes to the 2.0-L model's powertrain. Hyundai boasts a highly contemporary and chic design, which is backed by comfort and strong performance abilities. Add to that the numerous standard and optional technological, mechanical, and safety features, and you have a well-rounded and family-friendly mid-size sedan that puts its competitors to shame.
Interior
Hyundai has made some significant interior changes to the 2018 Sonata trims. Along the center stack is where you will find the biggest changes to the Sonata's interior design. The climate control buttons and infotainment system are now stacked front and center as they ought to be and are surrounded on either side by redesigned slatted vents. More contemporary and chic silver piano key buttons have replaced the former models' black buttons. Changes have also been made to the steering wheel, which now has three spokes, as well as to instrument dial graphics. A new USB port has been added to the rear seats, and there is a wireless pad for charging Qi devices. Additionally, if you opt for the Navigation package, you can get free traffic information and a bird's eye view to come up on the touchscreen. Tech-savvy drivers will love the upgrades made to Hyundai's BlueLink telematics system, which is now compatible with Google Assistant and Amazon Echo.
Exterior
Ask a Longmont area Hyundai dealer serving Longmont CO about the 2018 Sonata's exterior, and they can tell you about the long list of changes that have been made to this year's model. The Hyundai Sonata has had a total facelift done for this year, as you can see when you compare it's resculpted front fascia and black grille to the 2017 Sonata. The hood has more of a rounded downward slope to it, and the lighting has been reshaped to make it look more European in its narrowness. The 2.0T and Sport trims also feature glossy black window trim. Many changes have been made to the rear as well. The license plate area has been moved down to the center of the rear bumper to make way for the large Hyundai "H" logo and the word "SONATA." The Hyundai "H" actually quite cleverly hides the trunk release button.
Mechanical
The 2018 Sonata's chassis has received some important revisions, including a 12% stiffer torsion bar for the steering system. This new torsion bar gives the Sonata's power assist functions a vast amount more responsiveness and improves the overall drive quality. Also, the rear suspension has been given some much-needed upgrades. The trailing links are now 21% stiffer, and the bushings give better handling and ride compliance to the 2018 Sonata. As far as wheels go, you can now take your pick between some new, model-specific 17-inch or 18-inch alloy wheels. The larger wheels give a little bit more stability to the vehicle. There is also now Integrated Memory System (IMS) for the driver's seat and side mirrors.
Powertrain
The standard powertrain carries over unchanged from the 2017 Sonata, but the powertrain on the 2.0-L turbocharged dual injection 4-cylinder engines now has an 8-speed automatic transmission instead of the previous 6-speed automatic transmission. This should give a little extra get-up-and-go power to the 2.0-L engines and erase some of the issues previous models have had with turbo lag.
Safety
This 2018 Sonata review would not be complete without a discussion about the Sonata's numerous standard and optional safety features as well as its safety ratings. The 2018 Sonata boasts a huge list of standard safety features that all types of drivers can appreciate, especially those who are driving their families around. Blind spot monitoring with rear cross traffic alert is now standard on all Sonata trim levels. In fact, the 2018 Sonata is the only mid-sized sedan to offer these safety features as standard across its entire lineup; other vehicles have these as optional features on higher trim levels or bundled into packages, meaning you will have to pay more for them. Additionally, some optional safety features include forward collision warning, lane keep assist, and a lane departure warning system. The 2018 Sonata received "Good" marks across the board from IIHS in its crash safety tests. Also, the 2018 Sonata earned 5 stars on all but one (the 2WD rollover test was the only one to earn 4 stars) of its NHTSA crash safety tests. Overall, the Sonatas have been regarded as some of the safest mid-size sedans on the road for quite a few years, and the 2018 Sonata is no exception to this rule.
The 2018 Hyundai Sonata is an impeccably well-crafted new mid-size sedan that has a lot to offer, as this 2018 Sonata review indicates. The Sonata is a family-friendly, safe, reliable, and tech-savvy vehicle that offers a ton of standard features that often come as expensive add-on options on other automobiles. Save yourself some money and some time by calling your local Longmont area Hyundai dealer serving Longmont CO. Ask them about how you can get into a Hyundai Sonata for a test drive today.