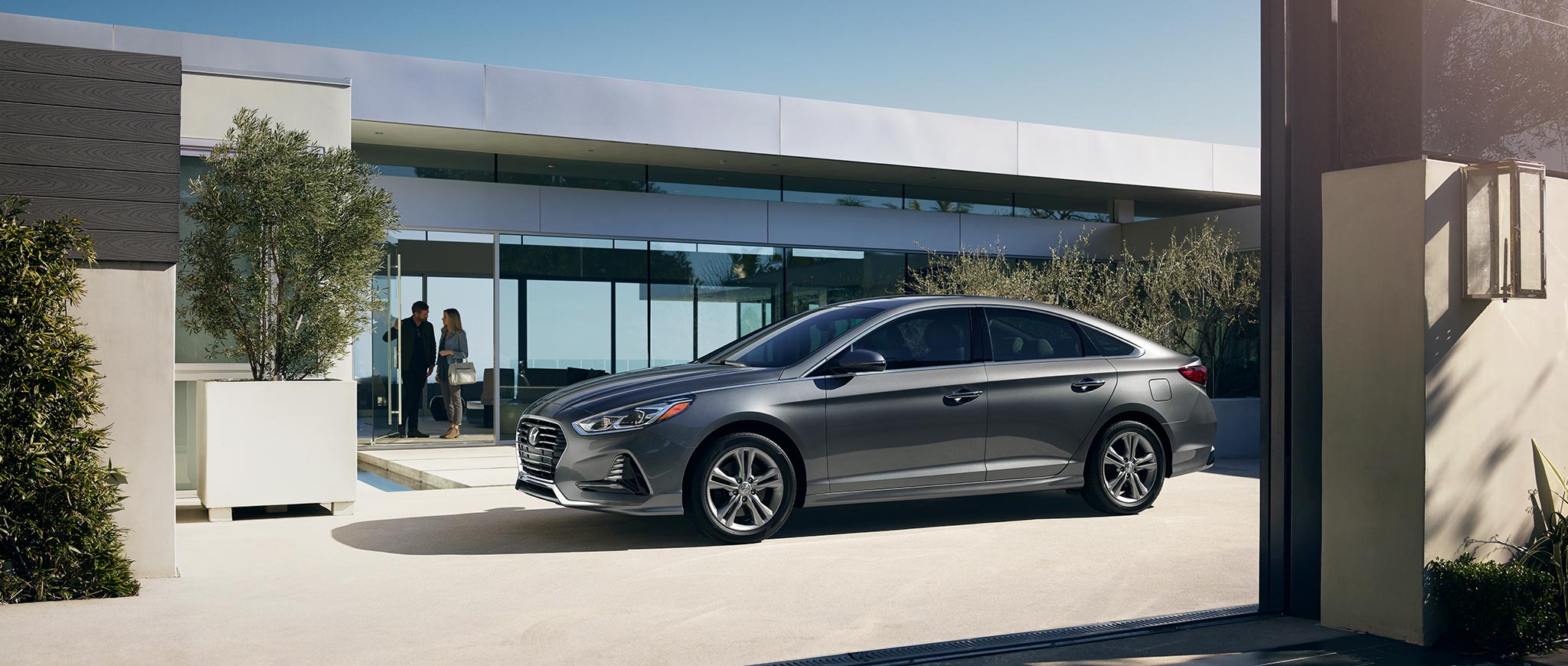 Overview
Are you thinking about contacting a Boulder Hyundai dealer to inquire about buying a 2018 Hyundai Sonata? If so, read this 2018 Hyundai Sonata review in Boulder and contact Boulder Hyundai to ask about how you can test drive a brand new Sonata today. The Hyundai Sonata, as this Boulder review will show you, embodies safety, reliability, comfort, and performance. The 2018 model has received numerous important updates to the interior, exterior, and under the hood (which includes an exciting new 8-speed automatic transmission paired with the 2.0-L engine). Overall, you can expect an even smoother ride than the previous years.
Interior
To kickstart this Boulder review of the brand new Hyundai Sonata, let us look at some of the major aspects of and updates made to the 2018 Sonata's interior design. There have not been a ton of significant changes to the design from the 2017 model, although the steering wheel is noticeably different with its new three-spoke design. Some of the Sonata's trim levels have a flat bottom unit. Also, the center stack now features silver buttons instead of the previous black ones, and the touchscreen is surrounded by silver trim to match all of the infotainment system's buttons. This creates a greater level of class and elegance so you will feel like you are riding in a luxury vehicle. The instrument dial graphics have also been updated, and the vehicle now features a wireless Qi charging pad and a USB charging port in the rear seat. If you opt for the Navigation package, you can now get free traffic details and a bird's eye view on your touchscreen monitor. Hyundai's BlueLink telematics system is now also able to connect with Google Assistant and Amazon Echo, which comes at no cost to you for three years.
Exterior
To continue with our 2018 Hyundai Sonata review in Boulder, we have to discuss the Sonata's exterior. Many notable changes have been made to the entire body of the 2018 Hyundai Sonata. Brand new sheet metal has been added to the hood, fenders, and deck lid. Also, the front fascia has been resculpted to look a bit more narrow. The grille has been widened and now features a mesh insert if you purchase the 2.0T or Sport trim levels. The headlights are noticeably much more slanted downward than their predecessors and reflect a growing trend to make vehicles look as sophisticated as their European counterparts. Top trim levels have LED lighting on their headlights, and there are vertical LED daytime running lights. You can select from 16-, 17-, or 18-inch wheels, and the windows on the 2.0T and Sport trims now have a sleek, glossy black trim. The rear bumper now houses the license plate, and the Hyundai "H" is now centered on the bottom side of the trunk lid. It cleverly hides the trunk release button.
Mechanical
Mechanically, there have been a few changes from the 2017 model. You can ask your friendly Boulder Hyundai dealer more about all of the mechanical details not mentioned in this 2018 Hyundai Sonata review in Boulder. One of the biggest improvements that have been made for 2018 is that the steering system's torsion bar is now 12% stiffer. This level of chassis restructuring gives a more secure feel and better feedback from the power assist features to the vehicle's driver. Also, the rear suspension trailing links are 21% stiffer than they were on the 2017 Sonata. The bushings have additionally been upgraded to provide an overall better ride quality.
Powertrain
The powertrain remains mostly the same, carrying over from the 2017 Sonata. However, the Sonatas that feature the 2.0-L turbocharged direct-injected inline 4-cylinder engine now have 8-speed automatic transmissions, thereby replacing the previous model's 6-speed automatic transmission. This should give a much smoother ride than its predecessor. Additionally, it should be noted that the 2018 line-up will debut a new SEL budget trim.
Safety
This Boulder review of the all new Hyundai Sonata would not be complete without mentioning the numerous standard and optional safety features on the 2018 model, as well as its crash test safety performance. As of the 2018 lineup, blind spot monitoring with rear cross traffic detection come standard on all Hyundai vehicles. On many other vehicles, this feature is optional and sometimes comes only on higher trim levels or in packages, meaning you have to spend more money just to get more safety features. In fact, the 2018 Sonata is the only mid-size sedan to offer these safety features as standard across its lineup. A lane departure warning system with lane keep assist bundled into it is also available on the 2018 Sonatas. The 2018 Sonata is also receiving top-notch safety scores in all of its crash tests, much like its predecessor, the 2017 Sonata, did.
If you are still thinking about contacting a Boulder Hyundai dealer, give Boulder Hyundai a call today. Boulder Hyundai can answer your questions and help you get into a new 2018 Sonata to test drive it, and boy, is this car worthy of at least a test drive. The 2018 Sonata is a safe, family-friendly, and tech-savvy new vehicle with a lot of power and style. You will get your money's worth by buying a vehicle with so many more standard features than its competitors. Also, the Sonata is a fun vehicle to drive.