View Inventory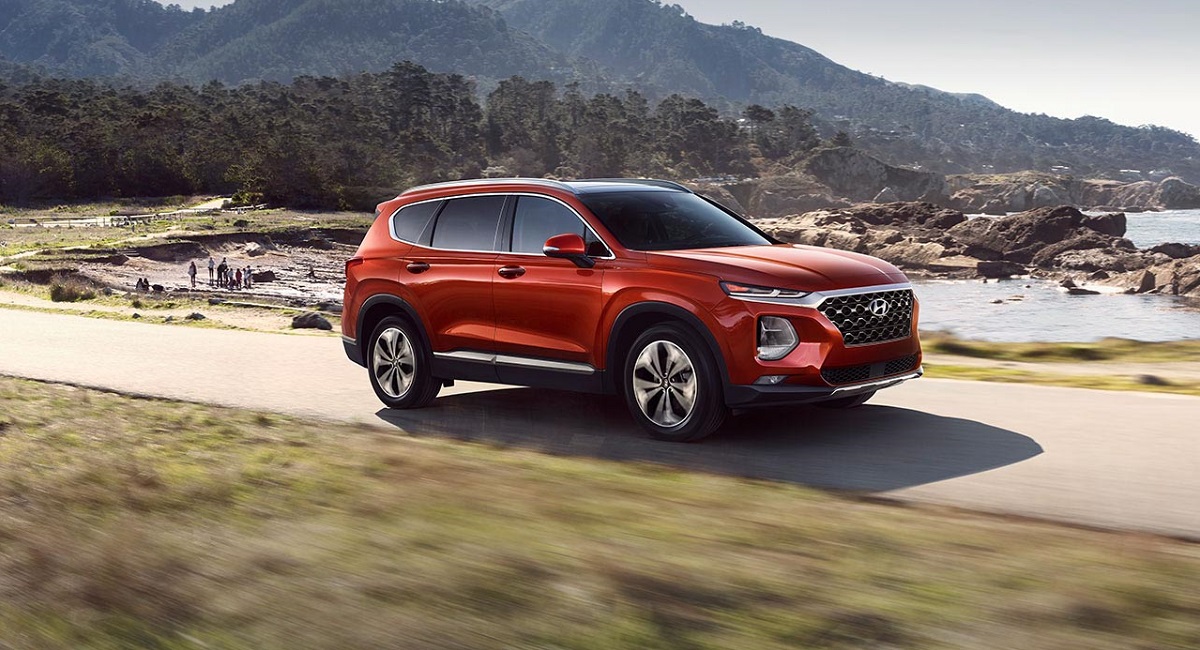 Vehicle Overview
In 2019, the Hyundai Santa Fe is back and better than ever with a host of exciting and enticing new features. Of note for the latest model year is a revised exterior with bold new curves and lines that take the Santa Fe from "ordinary" to "extraordinary." Along with its refined exterior, the 2019 Santa Fe also gets positive changes on the inside. In fact, with all that it offers this year, Hyundai rightfully calls the Santa Fe the "most technologically advanced" SUV in its class. But instead of just reading the Fort Collins buyers guide, you must see for yourself what the Santa Fe has to offer. You can do that by contacting Boulder Hyundai, serving Fort Collins Greeley Loveland, to ask about the SUV and find out when you can take one for a spin. With seven trims to choose from, you're bound to find one that meets your needs.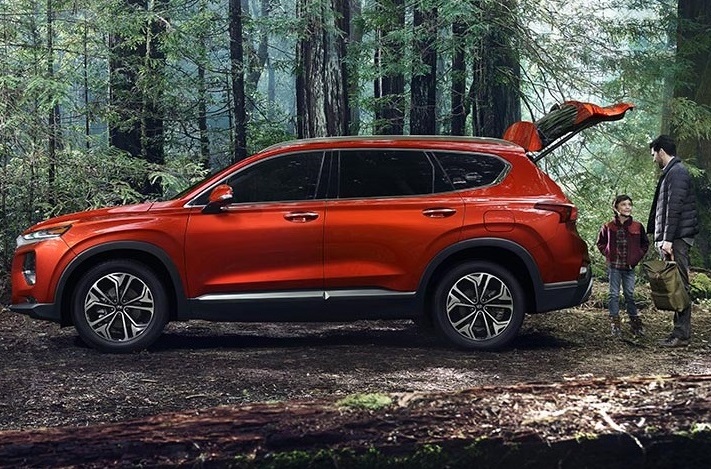 Exterior - 2019 Hyundai Santa Fe
On the outside, the 2019 Hyundai Santa Fe near Fort Collins Colorado is just as remarkable as the interior. A new and improved design this year makes the popular SUV more distinct and respectable than ever before. New for this year are bright and bold LED headlights that make it easier to see (and be seen in) the Santa Fe than ever before. A chrome-accented front grille will turn heads wherever you go, while vertically-oriented headlights give the SUV a more sophisticated look than many of its peers offer. Seventeen-inch wheels are standard on the 2019 Hyundai Santa Fe near Fort Collins, while slightly larger 18-inch wheels are optional.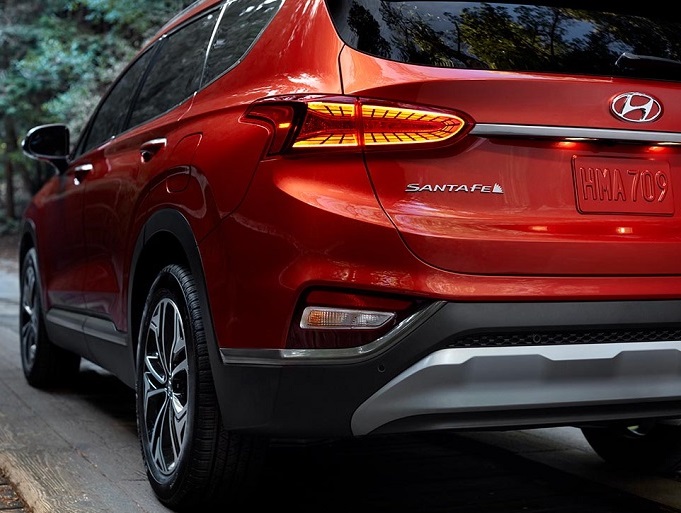 Interior - Hyundai Santa Fe near Fort Collins
Stepping into the cabin of the 2019 Hyundai Santa Fe near Fort Collins Colorado, you'll probably notice right away that there are exceptional tech features just about everywhere you look. This year, the 2019 Hyundai Santa Fe offers more surprises and salient features than ever before. The cabin features a standard seven-inch touchscreen display screen that is equipped with both Apple CarPlay and Android Auto. A larger eight-inch navigation screen with navigation and the other tech amenities is available as an add-on feature.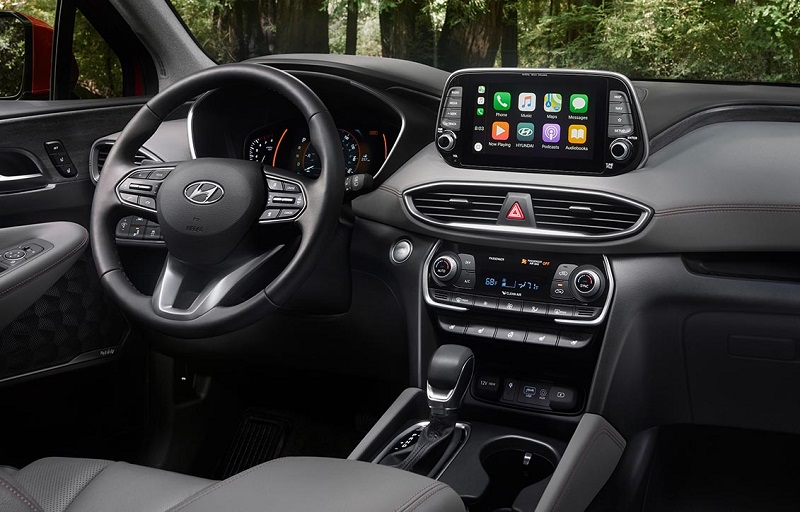 A revisited seat design features more foam for a softer and more supportive feel in the Santa Fe. In addition to giving you more comfort, this seat design fulfills a safety purpose by helping you stay in place (and maintain control of the car) when you're making unexpected maneuvers or handling tight turns. Sound-dampening interior materials and a premier 630 Watt, 12-speaker audio system are other highlights of the latest Santa Fe. Split-folding rear seats provide versatility for passenger and cargo space to meet your needs. Lastly, there is more room for passengers to spread out and relax than ever before, thanks to an expanded wheelbase that allows for maximal room in the cabin.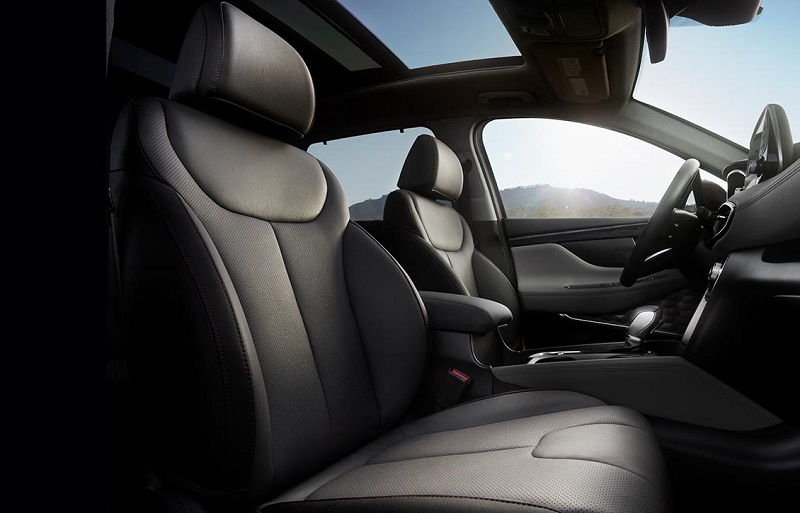 Mechanical - Hyundai Santa Fe specs near Fort Collins
The base engine on the 2019 Hyundai Santa Fe is a 2.0L, four-cylinder engine that produces up to 185 HP. The second engine is a more powerful 2.0L, four-cylinder engine that generates a maximum of 235 HP. This engine is also turbo-charged to give you the best acceleration and the most sporty and responsive driving feel possible. Both engines let the Santa Fe take off from 0-60 MPH in a matter of less than seven seconds. You can learn more about the engine options by reading a Fort Collins buyers guide, but you can also explore the power options in person by test driving a Santa Fe at Boulder Hyundai serving Fort Collins Greeley Loveland.
Powertrain - Hyundai Santa Fe specs near Fort Collins
With either engine, you have the option of a getting a performance-oriented SUV that's configured just the way you want it. The 2019 Santa Fe comes standard with two-wheel drive, but all-wheel drive is optional on all trim levels. Both engines are paired with an eight-speed automatic transmission that provides silky-smooth acceleration and responsive performance whenever you step on the accelerator.
Safety - 2019 Hyundai Santa Fe dealer
With a variety of passive and active safety tech features, the 2019 Santa Fe is stronger than ever. The latest Santa Fe features standard passive safety technology in the form of six cabin airbags that protect occupants in the event of a front or rear collision. You can read more about these features of the SUV in the Fort Collins buyers guide, which outlines which amenities are standard in the SUV and which ones are optional add-ons. Some of the safety features in the Santa Fe are ones that you'll find across the SUV board. This includes automatic high beams, rear cross-traffic alert, blind-spot monitoring, and lane-keep assistance, which uses special sensors to alert you when your car is drifting out of its lane. Other notable safety features, which are ones you won't find on many other cars, are the safe-exit assist and the rear occupants alert amenities. The safe-exist assist sends an audible warning if motion from a bike, pedestrian, or vehicle is detected to the back of the car. The rear occupants alert feature notifies you when an object (a pet or child) moves in the backseat.
With all that it offers, the 2019 Hyundai Santa Fe proves that it's a force to be reckoned with. This popular and versatile SUV is back and classier than ever with a variety of new interior amenities and a refreshed, more sophisticated exterior image. More safety features are standard than ever before, and the technology in the Santa Fe confidently rivals other vehicles in the 2019 market. You can contact Boulder Hyundai serving Fort Collins Greeley Loveland to find out when the newest Santa Fe will be in stock. In the meantime, don't hesitate to ask the friendly and responsive staff any of your Santa Fe or Hyundai questions.