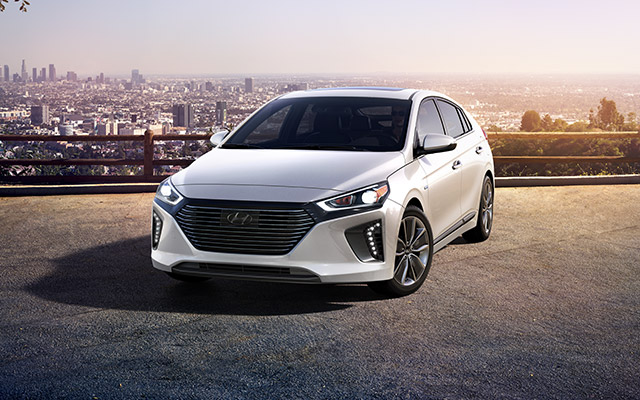 What to Expect in the New 2018 Hyundai Ioniq Plug-In Hybrid
A brand-new model in the automotive industry is always an exciting time. At your local Hyundai dealership serving Loveland Boulder Longmont CO, we are especially ecstatic about the up-and-coming 2018 Hyundai Ioniq Plug-In Hybrid. This model is a branch off the beloved Ioniq lineup, which already comprises a fully electric and a hybrid vehicle. To share some highlights of this intriguing addition, we have compiled a review for our friends near Longmont Colorado.
There's a lot to love about this new plug-in hybrid. From the moment you open the door, you'll be enamored with its classy cabin that is equipped with state-of-the-art features. As far as standard amenities, the Hyundai Ioniq Plug-in Hybrid offers heated front seats to keep you warm during the colder months, and dual automatic temperature control to create a comfortable cabin all year-round. Your comfort is key in any ride, and this vehicle provides it in spades. Not only does a tilt/telescopic steering wheel come standard, but so do steering wheel-mounted controls, which let you manage various functions while keeping your hands at 10 and 2. Best part? The steering wheel is even wrapped in leather, boasting a comfortable yet luxurious driving feel. In terms of technology, you'll find a 7-inch touchscreen in the center stack, which lets you enjoy Apple CarPlay™, Android Auto™, Bluetooth®, SiriusXM® Satellite Radio, and more.
When it comes to looks, the Ioniq Hybrid Plug-In has it down pat. Its refined design transcends the standard with its fluid profile, which is accentuated even further with beautiful curves and striking lines. You'll be rolling in style on 16-inch alloy wheels and have brilliant vision of the road ahead with the standard automatic projector headlights and LED daytime running lights; LED headlights are offered as available. Efficiency is crucial, especially in a vehicle such as this one, which is why Hyundai engineers equipped active grille shutters to optimize aerodynamics. Depending on current conditions, they open and close automatically to maximize fuel consumption and agility. Considering it's a plug-in hybrid, the charge port is located on the exterior in a spot that is utterly convenient.
The mechanics of a hybrid is always interesting, let alone a hybrid plug-in. Operation of this version is simple, no matter where you venture. You'll be able to maneuver with utter ease in this vehicle, thanks to the 6-speed EcoShift® dual-clutch automatic transmission that ensures seamless management of where you want to go. Agility is key in any ride, and it's often the selling point for consumers. Once you take hold of the wheel, we can assure you that you won't want to drive anything else. Equipped in each model is a MacPherson strut front suspension, an independent multi-link suspension, and even motor-driven power steering. All of these systems-and more-come together to produce a sensational driving experience. At our dealership serving Loveland Boulder Longmont CO, you can experience this beauty firsthand as soon as it hits the market.
To complement its smooth ride, this vehicle offers a medley of machinery to get it going. Considering it's a hybrid plug-in, a gas and electric motor are integrated. The 1.6L inline four-cylinder engine is the standard offering, and it delivers 104 horsepower and 109 lb-ft of torque. With this is the 45 kW interior-permanent magnet synchronous motor, which takes your ride up a notch with an additional 60 horsepower and 125 lb-ft of torque. The final piece to the trifecta of this new Hyundai model for sale near Longmont Colorado is the lithium-ion polymer battery, which renders a 360-volt charge. Depending on your preferences and driving conditions, our review shares that you have the capability to drive on solely gas or electric, further optimizing your time on the road.
When you're behind the wheel of the Ioniq Plug-In Hybrid, you'll feel at ease with the amount of safety technology that is implemented. For starters, it equips seven airbags throughout the cabin, ensuring supreme protection in the event of a collision. Driving dynamics are also at a high, as this model comes with hill start assist control, which creates stable handling on inclines. Of course, that's just the beginning. This latest hybrid plug-in also provides you the convenience of a rearview camera system, and that paired with the rear parking sensors will ensure every reverse is a confident one. Additional features include a tire pressure monitoring system, which integrates the capability to provide individual tire readings, smart cruise control, and lane departure warning.
There's nothing we love more than getting new vehicles at our dealership near Longmont Colorado. Set to arrive is the 2018 Hyundai Ioniq Plug-In Hybrid, a true marvel in the auto industry, and we hope this quick review has piqued your interest. We are proudly serving Loveland Boulder Longmont CO and welcome all to our full-service dealership for any of your automotive needs. We can't wait until this beauty graces our lot with its presence, and we invite you to be one of the first to ever drive it!