Research 2018 Hyundai Ioniq Plug-in Hybrid - Boulder CO
View Inventory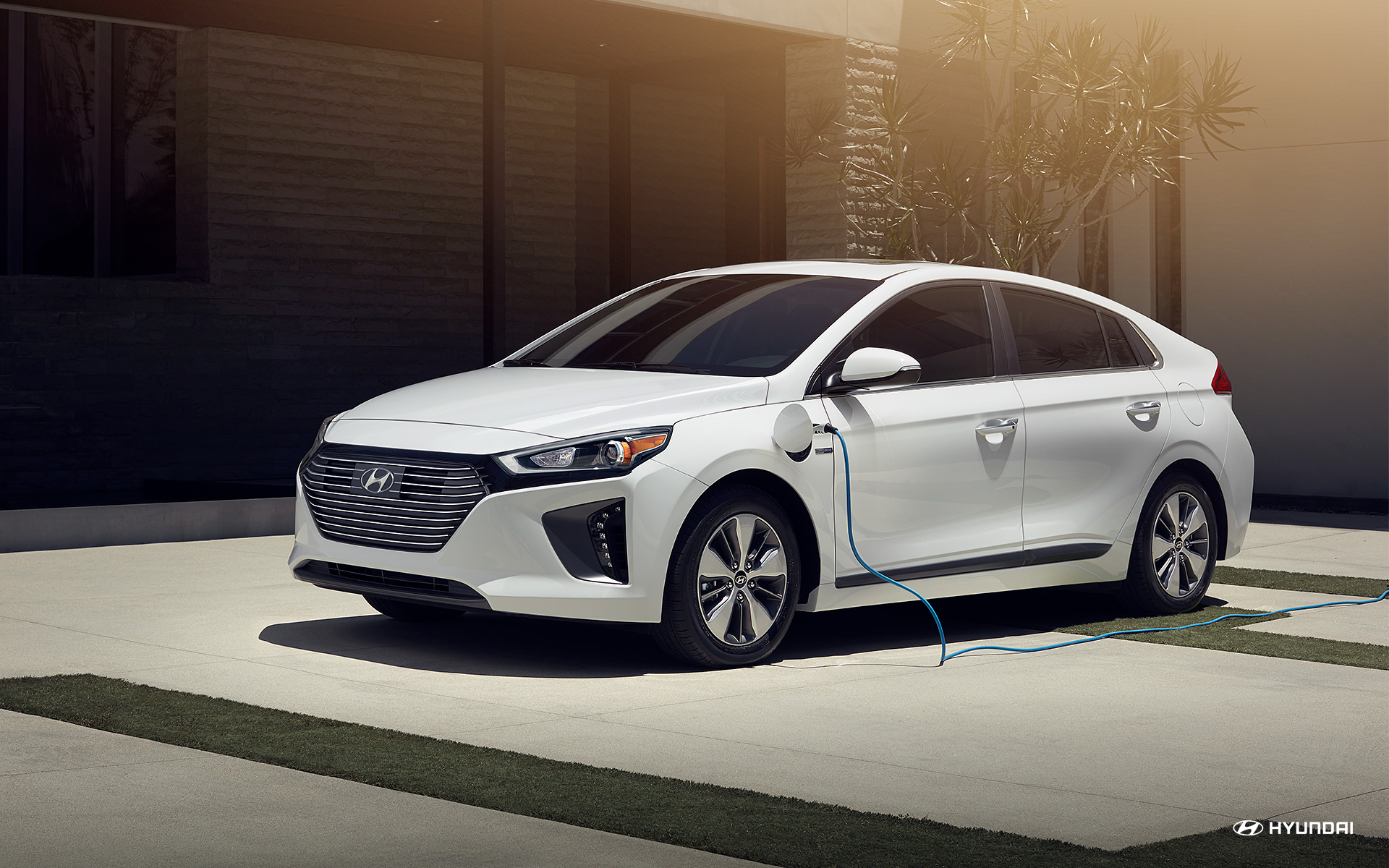 Vehicle Overview
Once seen as exotic and impractical novelty vehicles, electric cars have become more and more mainstream. However, research shows there is still a gap in the market between the ultra luxurious gadget-filled high end options and the budget conscious no-frills entry level models. This is where the 2018 Hyundai Ioniq Plug-in Hybrid dives right in. The Hyundai Ioniq line offers drivers first class luxury and convenience options at an affordable price.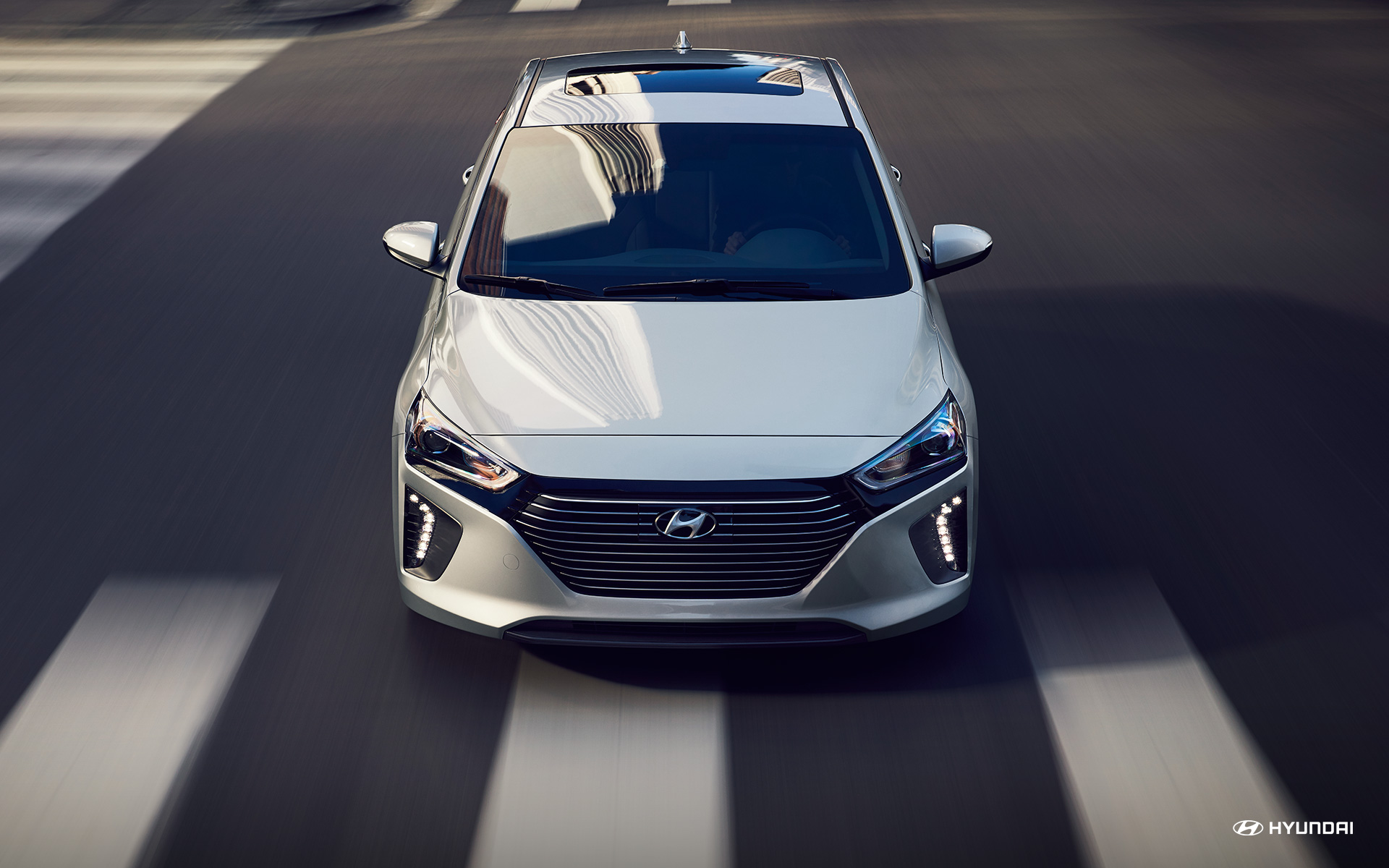 2018 Hyundai Ioniq Plug-in Hybrid's Exterior
The 2018 Hyundai Ioniq Plug-in Hybrid is styled with the current Hyundai lines, but with an aggresive and youthful edge. The front facade features squinty LED headlights positioned at the corners of the wide and sporty grille, which features active shutters for increased efficiency. The vertically stacked LED fog-lights sit at the lower outer corners of the front bumper. The side profile is familiar, borrowing lines from the popular Hyundai sedans, but with the added sloping fastback with sporty integrated lip spoiler. The wheels are dark tinted silver and black with low profile tires. The 2018 Ioniq is an attractive package that suits the young and the young at heart.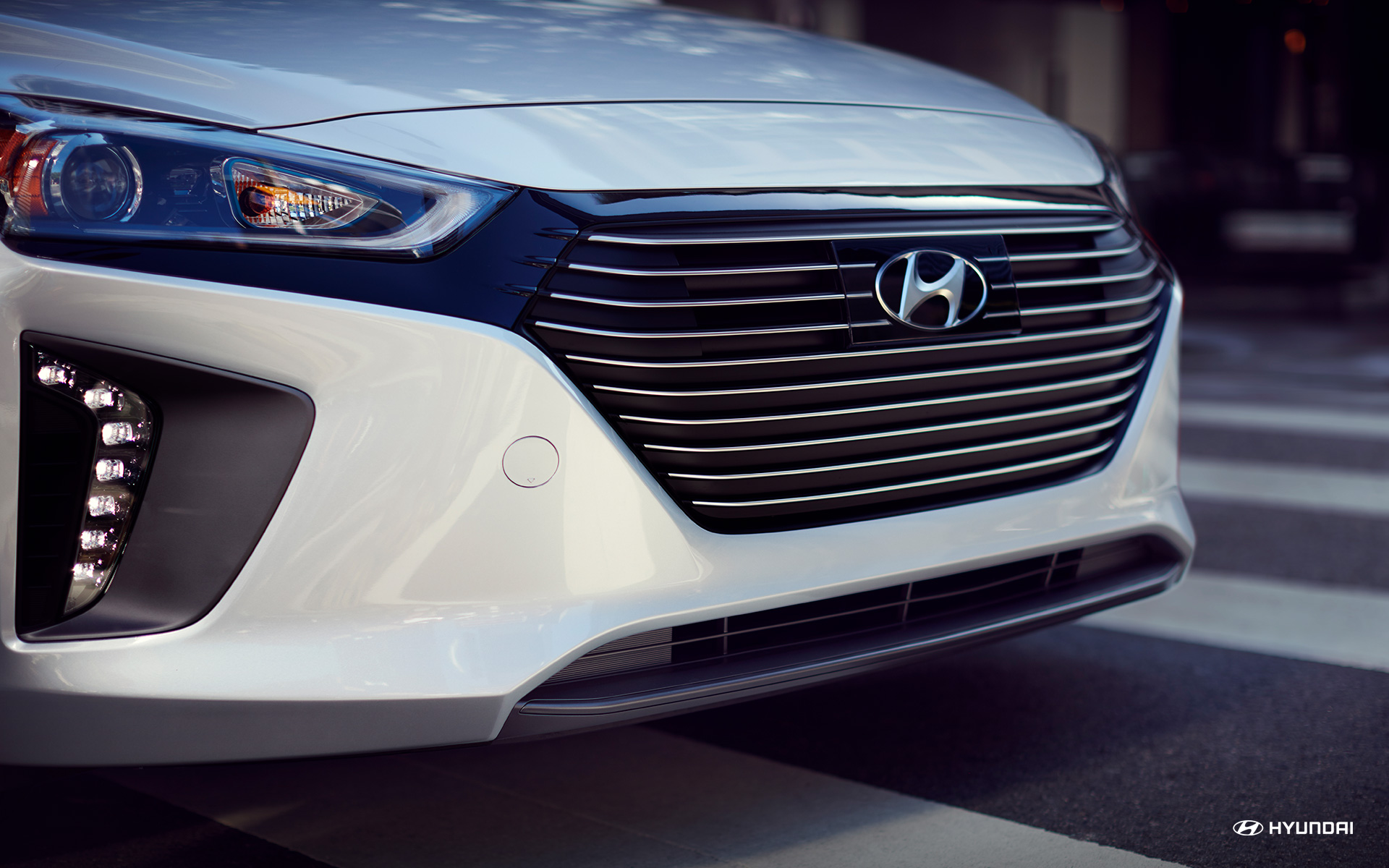 2018 Hyundai Ioniq Plug-in Hybrid's Interior
The interior of the 2018 Ioniq is a perfect balance of luxury materials and features in a very practical and familiar layout. The center stack features a large LCD touchscreen display surrounded with elegant and sporty piano black trim. Seats are available with perforated eco-friendly faux leather with decorative contrast stitching. The gauge cluster is shared with the non-electric versions of the Ioniq; a familiar comfort for those transitioning to an electric vehicle for the first time. The hatchback styling makes for ample rear seat leg room and cargo space.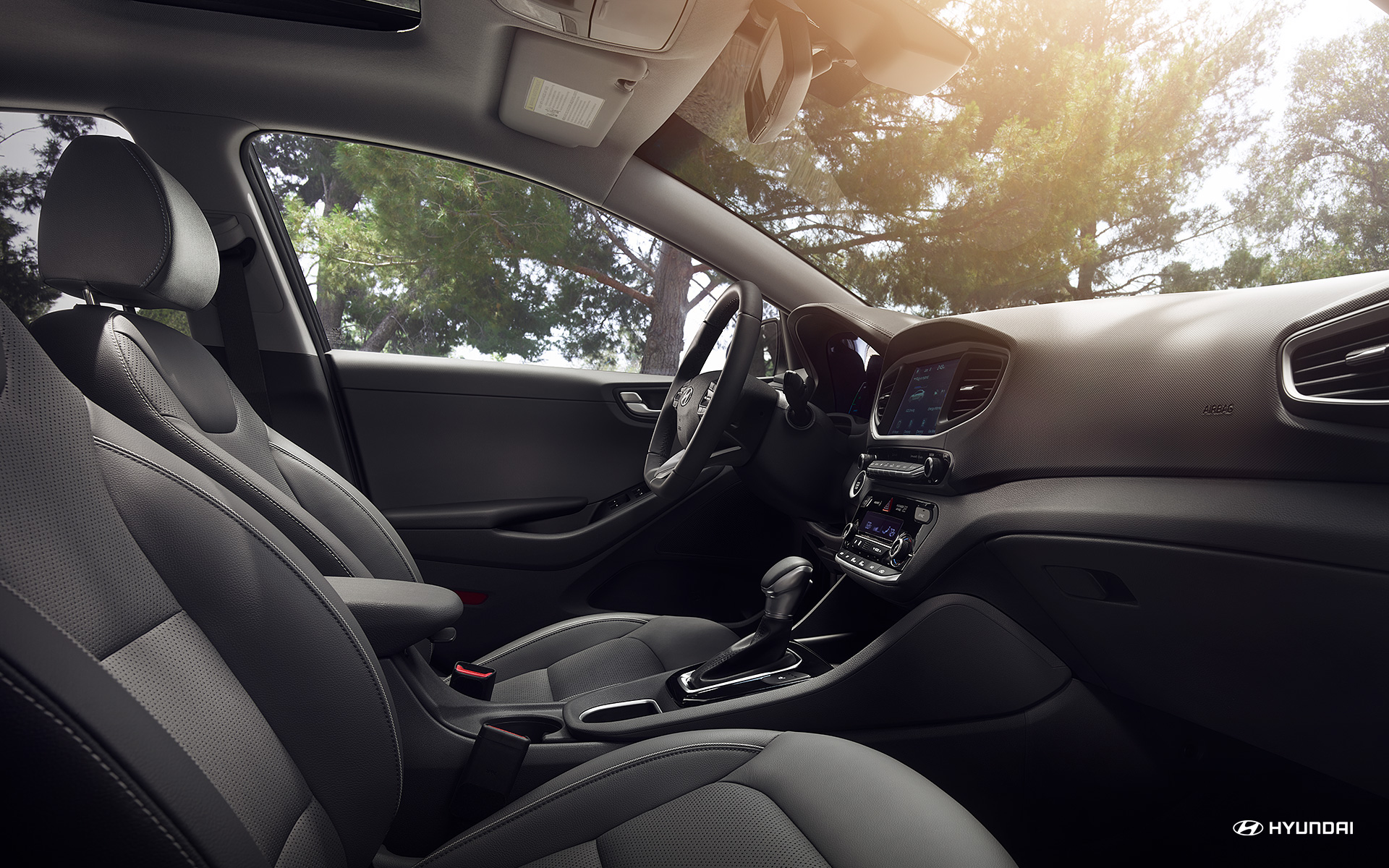 2018 Hyundai Ioniq Plug-in Hybrid's Mechanical
The Ioniq is available in three electric versions to suit various types of electric lifestyles; the Hybrid, the Plug-In Hybrid, and the all-electric Ioniq. The Plug-In Hybrid Ioniq gets a modest but adequate 27 miles of all-electric range, which is enough for all but the longest of commutes. The advanced battery systems charge quickly via the quick access port on the driver's side fender. Ioniq owners can rest assured with the Hyundai-exclusive limited battery warranty, a first in the electric car community. This warranty protects the components of the battery pack and charging system This is on top of Hyundai's already industry leading 100,000 mile bumper to bumper warranty. This type of assurance is only provided by a car company that is confident in the quality and reliability of their product.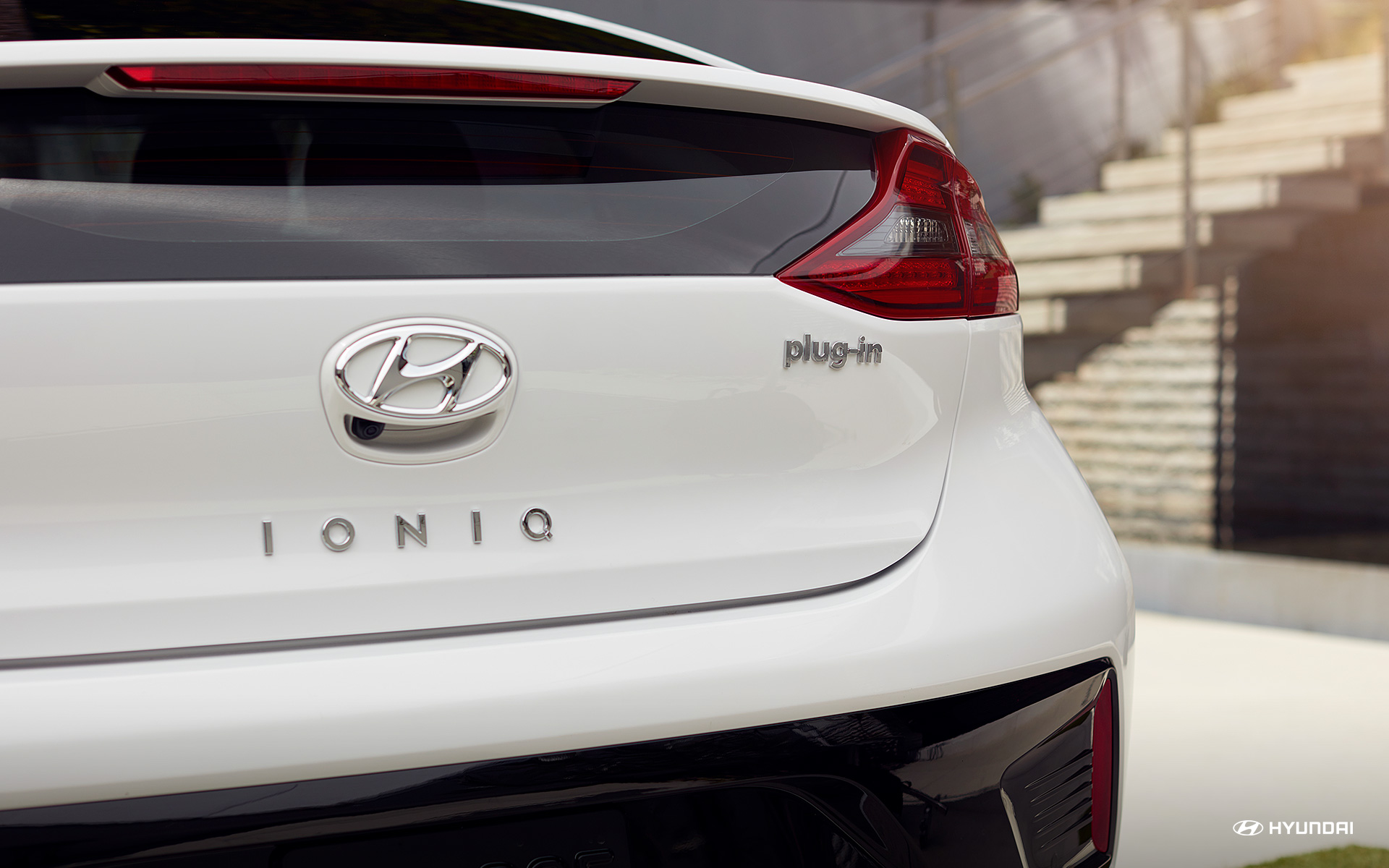 2018 Hyundai Ioniq Plug-in Hybrid's Powertrain
The 2018 Ioniq Plug-In Hybrid features a 45kW electric motor with a 60 HP output. This is paired with a 1.6L direct injection 4-cylinder gas engine. Power is delivered seamlessly through a 6-speed dual clutch automatic transmission for maximum efficiency. This pairing is capable of an impressive 590 miles of range. It also boasts excellent performance with access to instant torque from the electric drive motors. The Ioniq Plug-in Hybrid features new lithium-ion batteries rated at 8.5kWh for long life and fast charging. These compact battery packs offer an ample amount of power in a relatively small and lightweight package. This allows for more cargo space with an accompanying increase in range.
2018 Hyundai Ioniq Plug-in Hybrid's Safety
The Ioniq features all of the safety features one would expect in a modern upscale vehicle. There are 7 airbags protecting all passengers in the vehicle in the event of a collision. There is a rear-view camera which also works in alignment with the rear cross-traffic detection system as well as the blind spot detection system. These systems work in conjunction with each other keeping driver, pedestrians, and passengers safe. The available LED lighting and side mirror turn signal indicators make certain that the Ioniq is clearly visible in all conditions. The Apple CarPlay feature allows drivers to access popular apps from the Ioniq's touchscreen display, providing access to music and turn by turn directions. Users can also have text messages read aloud or make and receive phone calls with Siri voice control options. This amazing new suite of features ensures that drivers never even have to glance at their phones while driving.
The 2018 Hyundai Ioniq Plug-In Hybrid is a well timed and well crafted entry into the EV landscape. To continue your research of this awesome new model prior to it's release this summer, consider a visit to Boulder Hyundai. Proudly serving Loveland Longmont Boulder area, This roll has all the latest info about the Ioniq Plug-in Hybrid including price and availability. The quality of service is unmatched by any other dealer serving Loveland Longmont Boulder area. There, you can continue your research hands-on by testing one of the similar models. The friendly staff at Boulder Hyundai will support you in your search for your first, or next plug-in hybrid vehicle. Come see the professionals at Boulder Hyundai proudly serving Loveland Longmont Boulder. You will get a fair comparison and a fair price.