Research 2018 Hyundai Kona | Boulder CO
View Inventory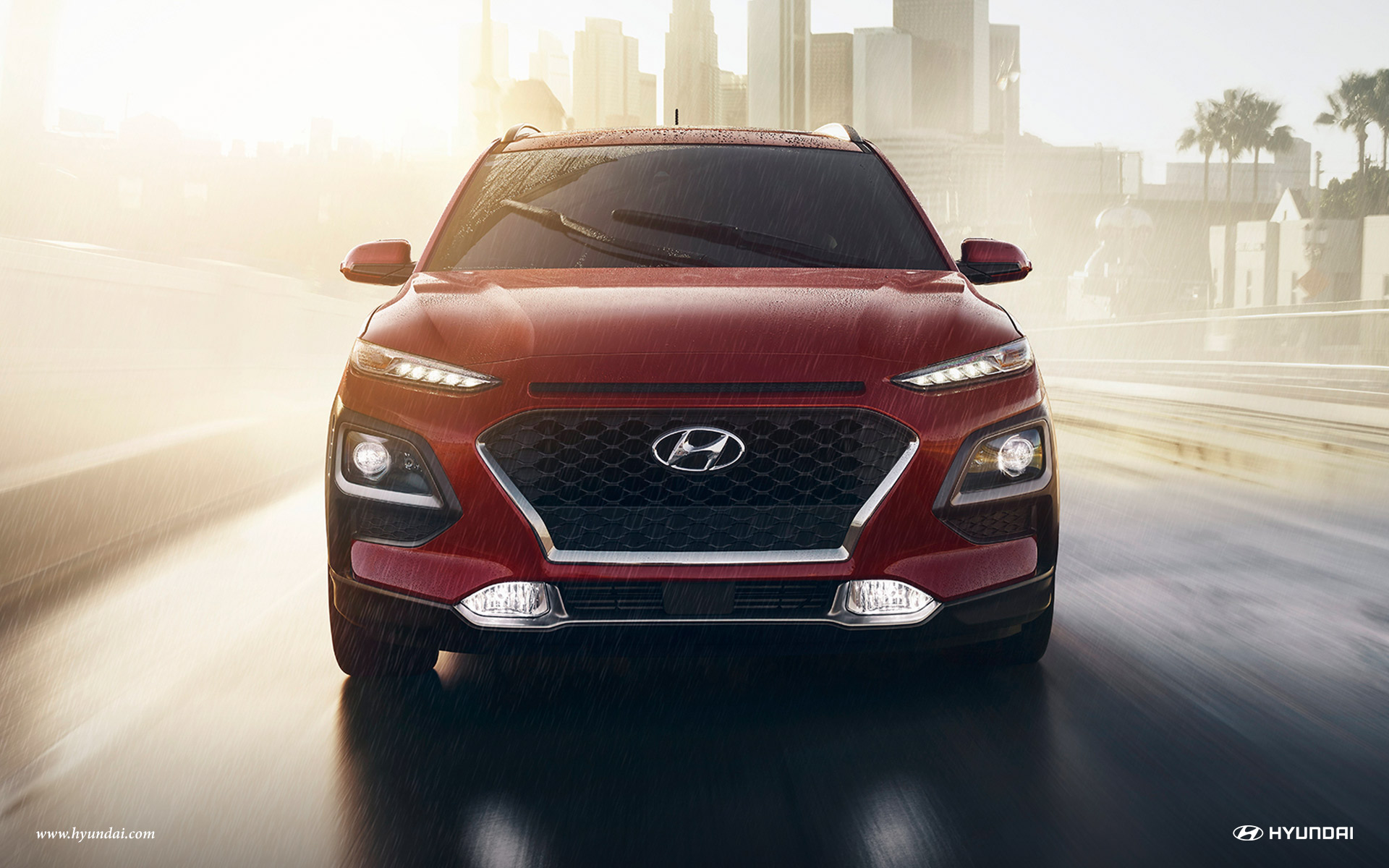 Vehicle Overview
Hyundai Motors is proud to unveil the latest in their popular line of SUV models. The Kona is a compact-sized SUV likely to make a definite impact with car owners who enjoy the ease of an SUV without committing themselves to a large car. The new Hyundai entry is both stylish and storage friendly, giving it great appeal with a wide range of auto consumers.
The 2018 Hyundai Kona is expected to make its debut in Hyundai dealerships around the United States including in Boulder Colorado by early 2018. Research says that plans are already on the drawing board for EV, hybrid and hydrogen versions. While these versions are not yet on the market, they will be at Boulder Hyundai as soon as they are available.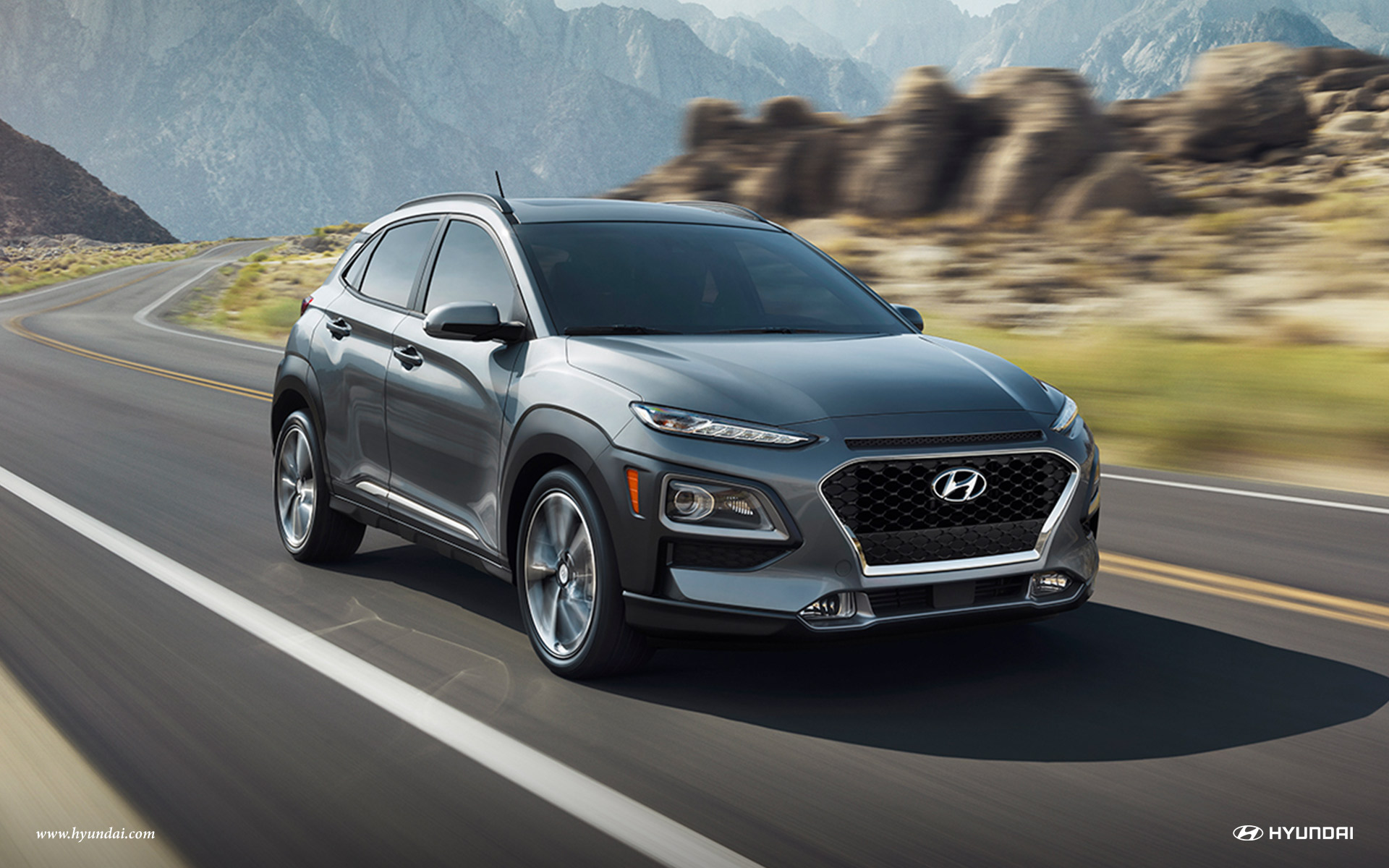 2018 Hyundai Kona's Exterior
The exterior of the 2018 Hyundai Kona has been developed to appeal to car buyers who wish for their SUV to appear both powerful and ready for extremes. While compact in size, this Hyundai SUV features the brand's "Cascading Grille" designed with a mesh that reflects its sporty attitude. Another noticeable asset are slim DRL (daytime running lights) which are stacked and yet separate from its LED lights.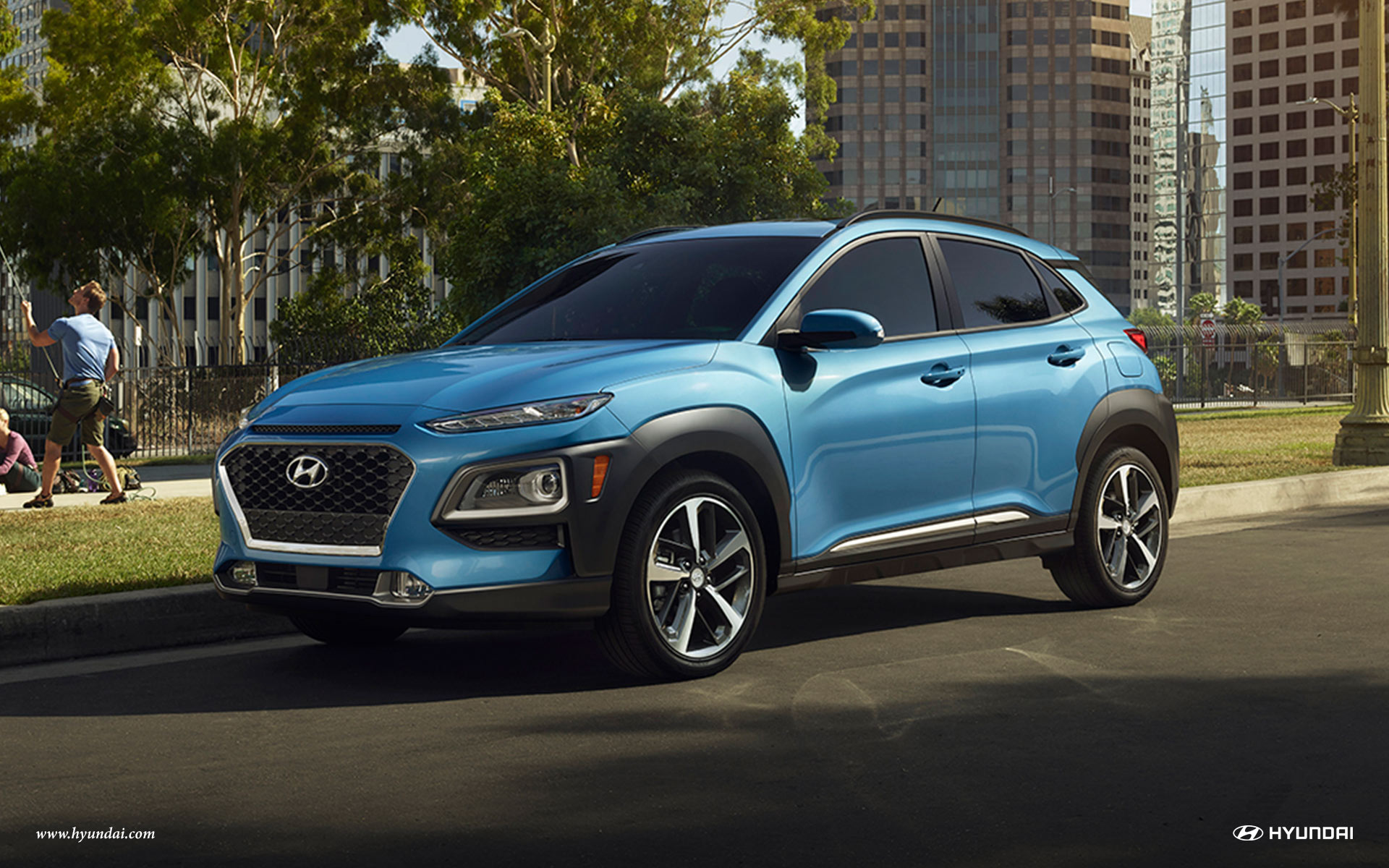 This unique arrangement of the LED lights joins with another smart looking configuration of lights in the rear of the vehicle. Brake lights are also slim in size, with the reverse lamp and turning indicators stationed in another separate stack. The high tech appeal of the exterior is joined by composite lamp lights designed to appear almost mechanical in appearance.
The shape of the Kona itself has been given several attractive color schemes for buyers to choose from either online from Boulder Hyundai or when visiting their showroom in Boulder Colorado. Car buyers are encouraged to customize their new SUV with their own color selections, further individualizing the driving experience.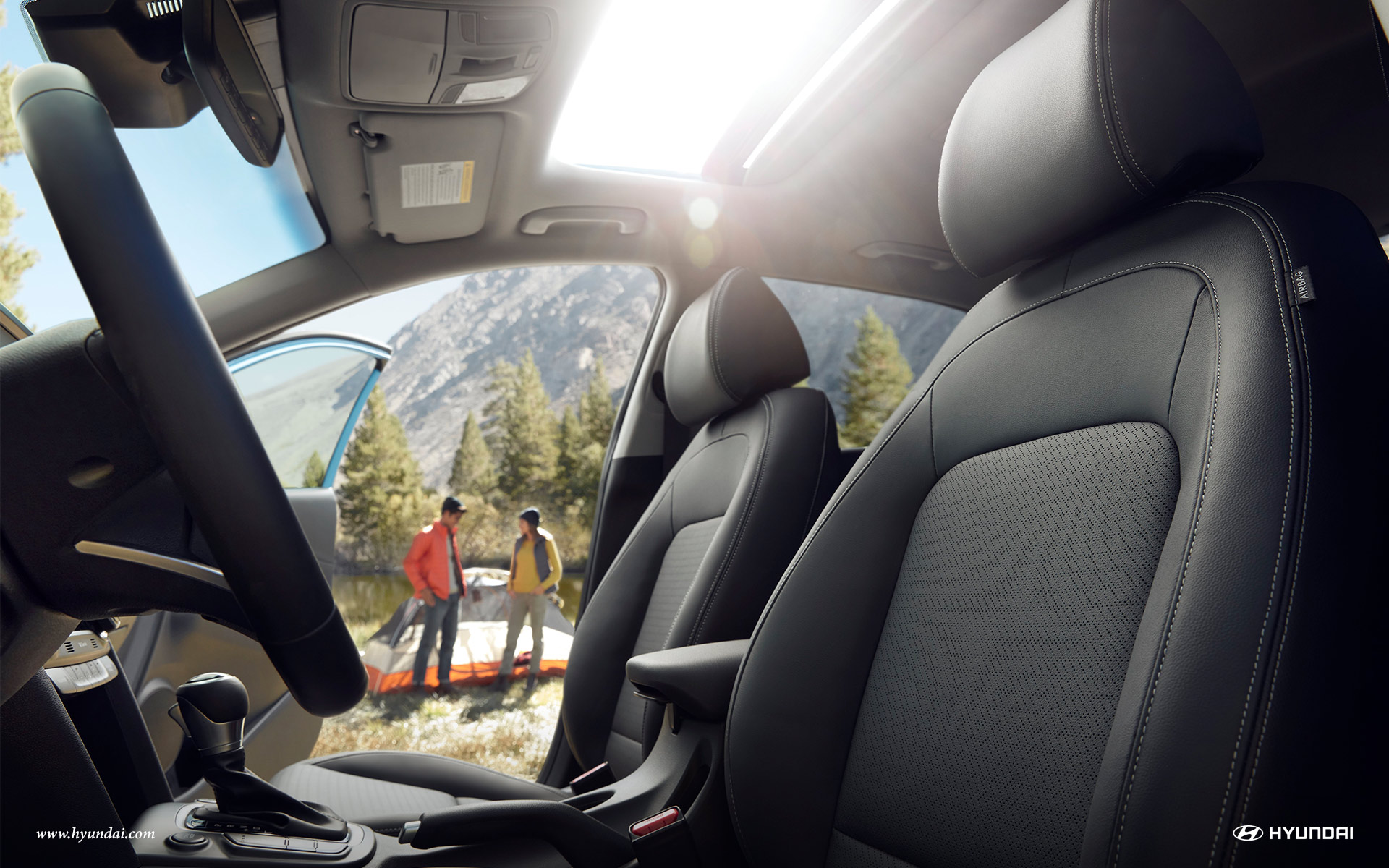 2018 Hyundai Kona's Interior
The interior design features a simple layout with features that suggest the sleek interior of a deluxe automobile. The front dashboard monitor includes an AVN (audio, visual and navigation) system more often seen in Hyundai's luxury sedans. Advancement research in their infotainment console includes a monitor that appears to float within the dashboard, something most car owners will find a novel idea.
A further sense of openness is provided by an HVAC (heating, ventilation and air conditioning) system that enters the car's interior via mechanically installed air vents which are controlled by user-friendly buttons. As a whole, the interior is soft and provides a comfortable environment for both the driver and passengers.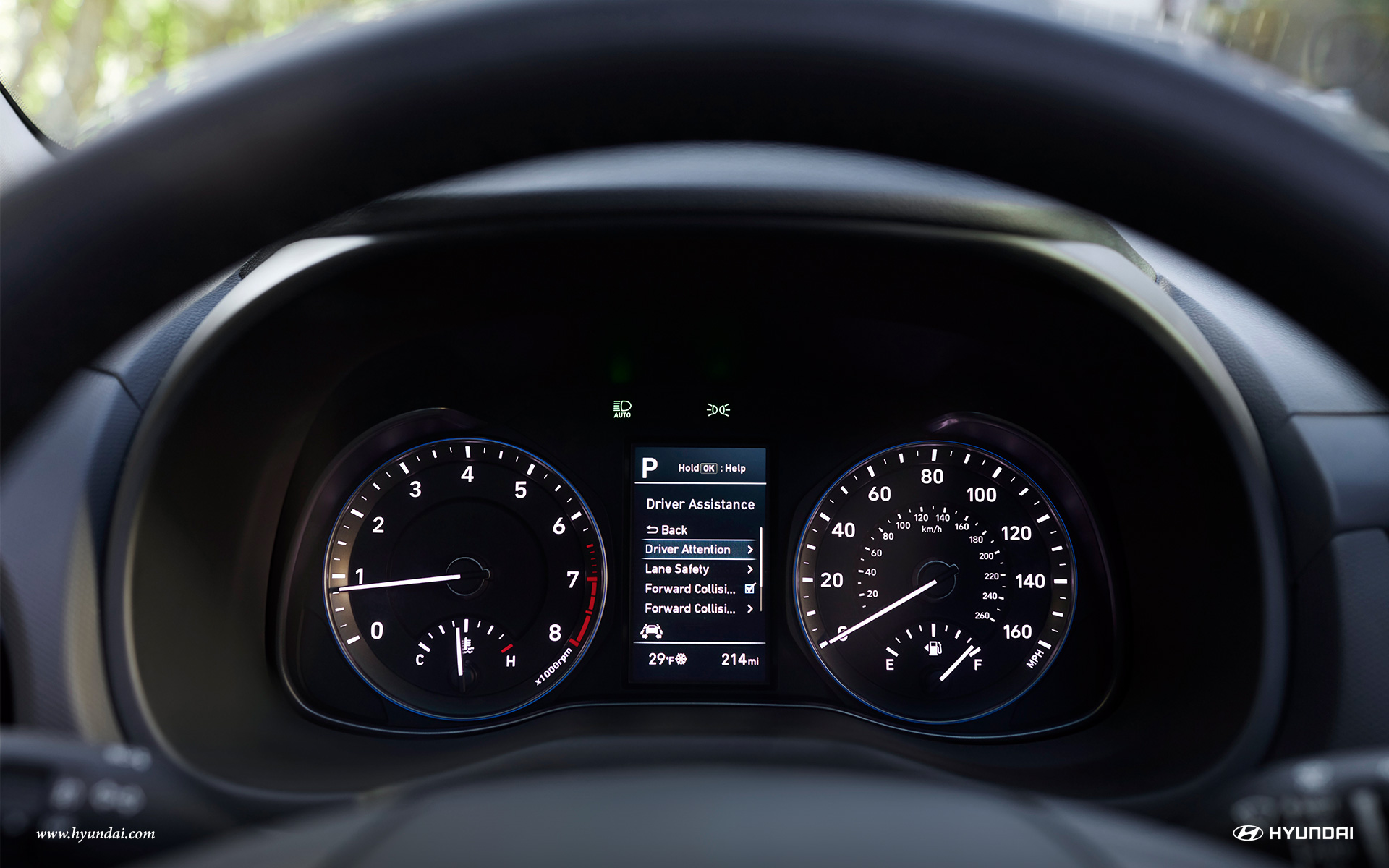 2018 Hyundai Kona's Interior space is further enhanced by the optimization of its floor layout. The 4-wheel drive train and exhaust system is placed to increase central footage and allow for a lower floor. This gives the seating arrangement a greater degree of headroom for both front and rear seat occupants.
The Kona has additionally been designed to grant maximum space capability, something that will be of concern to car buyers with growing families that need to transport equipment. To these ends, the rear seats split and fold back with ease. This makes for a floor space that can be conveniently loaded with everything from luggage to grocery bags or a bag of golf clubs.
2018 Hyundai Kona's Mechanical / Powertrain
This compact SUV was developed to combine power, performance and fuel efficiency. Much of this is derived from its small displacement turbocharged gasoline engine combined with a diesel powertrain for smooth motoring on a variety of road surfaces. Drivers will enjoy the nimble ease in which this allows the vehicle to take on sharp turns and incline surfaces.
Another new design plus is the Kona's SUV chassis which has been engineered with a lightweight shell that assists with performance at higher speeds and yet retains rider comfort. Although compact compared to other SUV models, the vehicle's platform permits standard SUV amounts of ground clearance. The drivetrain has been further packaged within the Kona so that even with four wheel drive, the interior remains relatively spacious.
Hyundai's auto manufacturing team has given the 2018 Hyundai Kona a transmission and intercooler design layout that minimizes its appearance in the interior cabin. Components for the exhaust, suspension and fuel systems are also packaged neatly within the vehicle. Rear occupants also benefit from this intelligent auto design.
The front struts feature a McPherson system, with a newly designed "sub-frame bush mounting." The tire trace can be considered "best-in-class" for an SUV, let alone one of this compact size. The tires are incorporated within the vehicle to add to refined exterior while lending itself to performance on roads in rough weather or during off-roading adventures.
2018 Hyundai Kona's Safety
Prominent safety features for 2018 include an FCA (forward collision avoidance) system, which lets the vehicle brake automatically when detecting imminent impact or collision. The 2018 Hyundai Kona also contains a Driving Attention Warning System, Lane Keeping and a High Beam Assist. Vehicle radar also work the Blind Spot Collision detection system and the Rear Cross Traffic Warning to avoid rear collisions.
Request more information
If you'd like more research on this model, feel free to contact Boulder Hyundai either via their website, by phone or by visiting their showroom in Boulder Colorado. At the dealership you'll see the vehicle in person and get a feel for everything new for 2018. Best of all, you can take a test drive with a knowledgeable sales representative and understand why this automobile is so unique.