Loveland Area 2019 Hyundai Tucson
View Inventory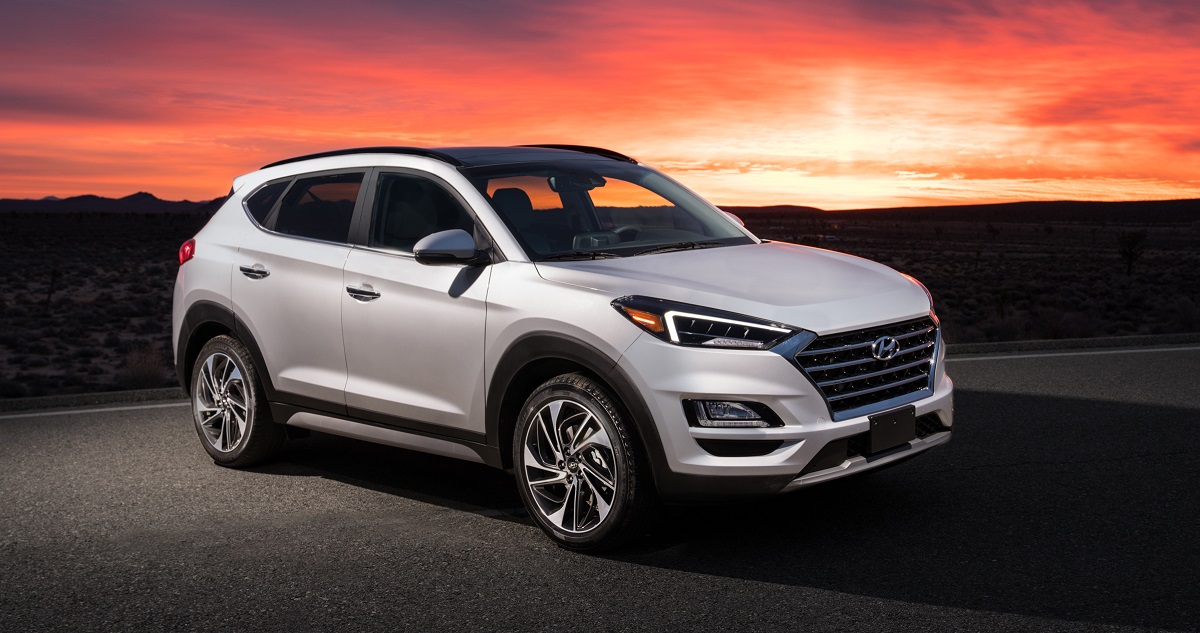 Vehicle Overview
Today, the 2019 Hyundai Tucson generates a lot of interest in Colorado. Visit Boulder Hyundai soon to see this magnificent vehicle. Your dealership serving Loveland Colorado offers a wealth of information for car seekers researching Hyundai brands. Available in six attractive trims (SE, Value,SEL, Sport, Limited, and Ultimate) the 2019 model of the popular Tucson offers trendy style. It couples intuitive design features with innovative high tech safety systems. Front Range drivers enjoy several available options for tailoring this four door SUV crossover to meet their unique requirements and driving goals.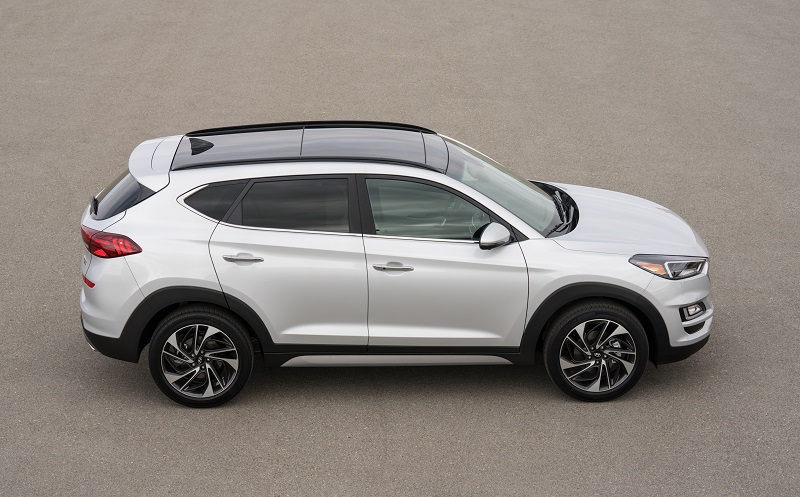 Exterior - 2019 Hyundai Tucson
When you see 2019 Hyundai Tucson near Loveland, the recently redesigned front grille will certainly attract notice. It provides this SUV with a bold, prepossessing appearance. Hyundai uses LED lighting very effectively in this vehicle. Drivers can obtain LED headlamps and tail lights, as well as an available sunroof to enhance natural light in the cabin during the day. 2019 Hyundai Tucson presents an eye-catching profile. Choose among glossy paint color selections including white, silver, blue, red, and black. In the rear, the designers included a lift gate which operates in a completely hands-free mode if preferred. Owners possess the power to program the automatic lifting of this door as desired.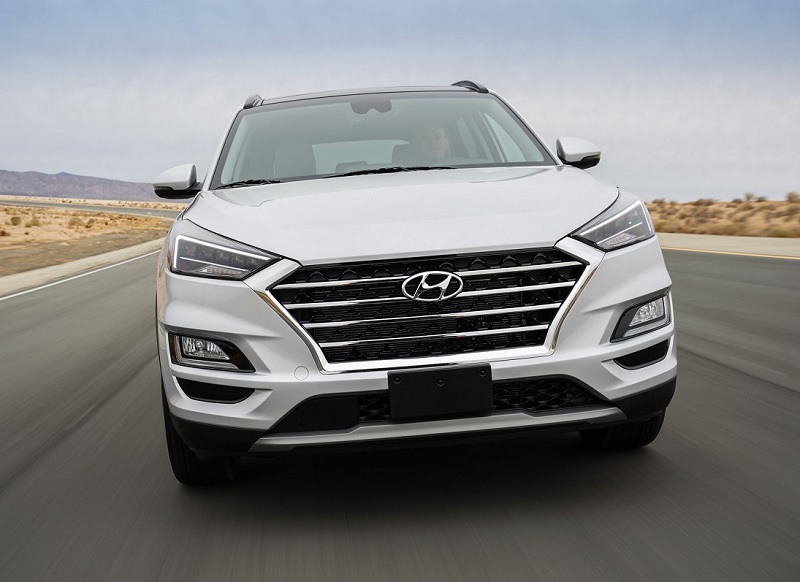 Interior - 2019 Hyundai Tucson in/near Loveland CO
When you pull open the driver's side door to slip inside this vehicle, you'll notice the well laid out cabin. It seats up to five people. Hyundai supplies an interior which combines the opulence of a sedan with the roomier qualities most people associate with sports utility vehicles. In addition to dedicated cargo space in the back, the 2019 model offers rear seating capable of folding flat to provide expanded cargo hauling space. Drivers in this sometimes cold region appreciate the presence of heated rear and front seats and a heated steering wheel. The front seats also offer ventilation capabilities to increase interior coolness during hot weather.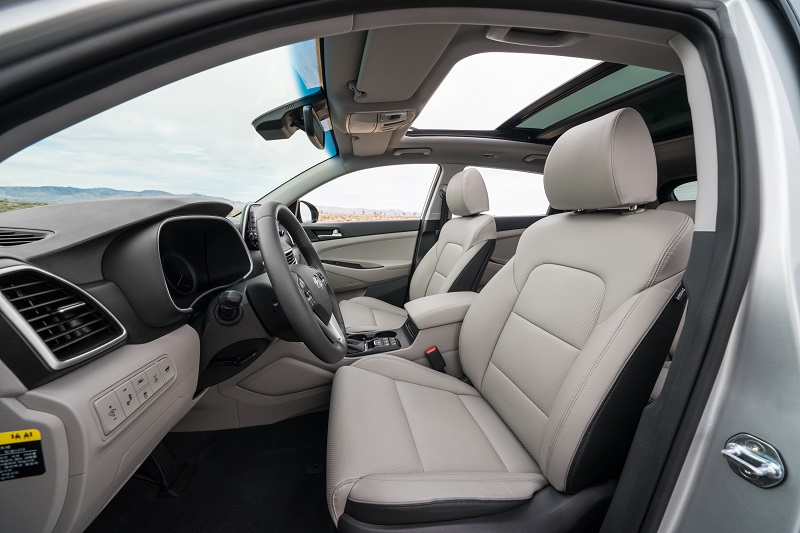 Mechanical - Hyundai Tucson specs in/near Loveland
Of course, the 2019 model reflects Hyundai's emphasis upon reliable mechanical performance. Buyers can upgrade to obtain four wheel drive. Replete with rack-pinion steering, anti-lock disc brakes, and a sophisticated multi-link and strut suspension, this vehicle furnishes some carefully crafted automotive systems. The Tucson offers 19" wheels and built-in traction control. When you visit your local dealership serving Loveland Colorado, consider bringing along questions about specific automotive features of most interest to you in the Tucson. Our staff will help you research this information. We'd like to assist you in customizing this vehicle to best suit your driving needs.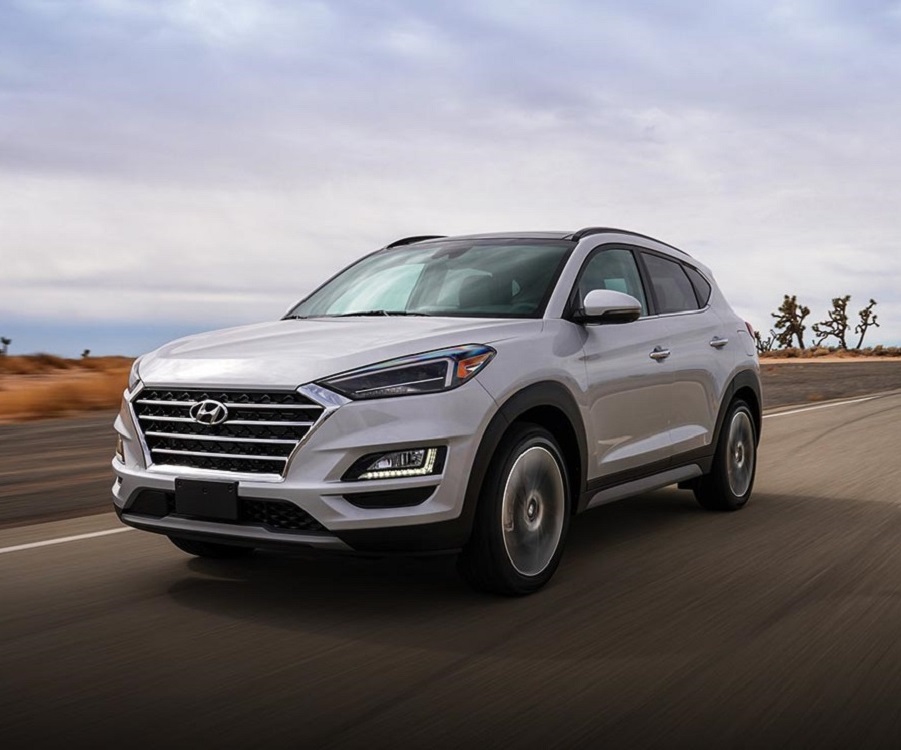 Powertrain - Hyundai Tucson specs in/near Loveland CO
One reason for the Tucson's popularity relates to its economical gasoline-powered engine. Equipped with 6-speed transmission and a four-cylinder engine, it achieves a combined estimated fuel economy of 26 miles per gallon. The Value and SE trims offer a 2.0L engine, while other trims supply a 2.4L engine. This vehicle offers over 160 horsepower. Contact Boulder Hyundai to obtain detailed information about matching the engine with your preferred SUV towing capabilities. Experience how easily drivers navigate along local Colorado roadways in this fashionable crossover by actually driving the Tucson this year. Contact Boulder Hyundai to begin the process of arranging for a test drive. We'll gladly help you explore how different Tucson trim packages help tailor this vehicle for Front Range drivers.
Safety - 2019 Hyundai Tucson dealer
One reason the 2019 model has elicited so much interest from many drivers in this area relates to the manufacturer's use of available high tech driver alert systems. Of course, the 2019 Hyundai Tucson still includes a strong steel framework surrounding (and protecting) the cabin. It also offers a host of standard safety features, including air bag systems and durable driver seat restraints. Additionally, Hyundai has invested in a popular SmartSense program to engineer some advanced safety systems into its brands. When you visit you local dealership to see 2019 Hyundai Tucson near Loveland, ask us to show you some examples of this impressive technology. While nothing substitutes for an alert, safe driver at the wheel, several of these new available auto alert systems provide incredible convenience. They may bring greater peace of mind. For example, in some trims, customers can obtain blind spot warning sensing to assist drivers making lane changes on busy roadways. This system pleases customers seeking to optimize safety while driving during hazardous weather conditions, for example.
To take a close look at 2019 Hyundai Tucson near Loveland, mark your calendar now. Plan on visiting Boulder Hyundai, your dealer serving Loveland Colorado, Longmont, and other outlying areas. We welcome the opportunity to introduce you to this exciting, very attractive SUV crossover soon! Call now to reserve a personal tour.